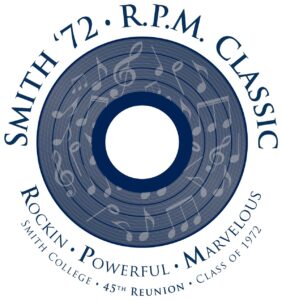 Come join us for our 45th Reunion
May 25-28, 2017
Click here for 2017 survey results.
Click here for '72 schedule of events
Whether you plan to come to Reunion or not, we look forward to hearing from you. Please participate in the Class Survey.
Click here to print the survey.
Click here to complete the survey online.
Nancy LeaMond
As EVP, Chief Advocacy & Engagement Officer, Nancy LeaMond oversees AARP's Community, State & National Affairs. She has responsibility for driving the organization's social mission on behalf of Americans 50+ and their families. Nancy leads government affairs and legislative campaigns for AARP, widely seen as one of the most powerful advocacy organizations. She oversees public education, volunteerism, multicultural outreach and engagement, and she leads AARP's efforts to expand its footprint in cities and communities across the country.
During her tenure with AARP, Nancy has led several landmark campaigns, including: You've Earned a Say, an initiative that engaged more than 10 million Americans in the debate over Social Security and Medicare; a multi-state utility campaign that saved 39 million consumers more than $2.4 billion by fighting home energy increases; Health Action Now, which ensured that federal health care reform included critical benefits for Americans 50+, and; Divided We Fail, an initiative with the Business Roundtable, Service Employees International Union and National Federation of Independent Business that successfully put health care and financial security at the top of the country's agenda during the 2008 elections.
Nancy is a nationally recognized leader on health, retirement security and other issues important to older Americans. Her career spans 35 years in the governmental and nonprofit sectors. Nancy holds a master's degree in public policy and urban planning from the John F. Kennedy School of Government at Harvard University. She is a former trustee of Smith College (1972-75).
Gail Shearer
After graduating from Smith, Gail did an MPP at Harvard's Kennedy School.
She spent her career as a consumer advocate and health policy analyst, mostly at Consumers Union (publisher of Consumer Reports) and the Federal Trade Commission. She worked on issues such as universal health care coverage, medigap simplification, and improving value for health care dollar.
Since leaving the workforce in 2013, Gail has volunteered to help her community establish an "aging in place" village. She also volunteers with the local SHIP program that counsels seniors about Medicare and related insurance.
She recently celebrated her 40th anniversary of her marriage to Chris Palmer. Gail and Chris have three grown daughters and three young grandchildren. Gail is cherishing moments that she gets to spend with her grandchildren … two who live near her and one who lives in far-off California.
Thayer Longfellow Baine
Thayer taught elementary / middle school music and 6th grade math for 25 years with a break for graduate school and for raising her two sons and one daughter. She retired in 2011 and continues to tutor and to volunteer in after school programs in the area. Thayer and her husband Kevin have two grandchildren who have the audacity to live in Palo Alto! Retirement includes trips to CA to keep tabs on the little people and extended stays in FL to avoid the northern cold.
Thayer has sung in a non-professional chorus (The Washington Chorus) for the past 40 years and serves on its board of trustees. Her love of choral music dates back to her days singing in the Smith Glee Club under Iva Dee Hiatt.
Thayer is a BIG fan of reunions and was recently back at Smith with her mother who was there for her 75th! Celebrating with Smithies – friends and strangers, classmates and fellow college-mates – is just plain fun.