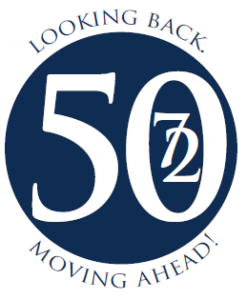 50TH REUNION – On Campus & Online – MAY 12-15, 2022
Reunion 2022 is on campus PLUS Smith is planning a "Virtual Layer" to Live Stream some College and Class programming. Please mark your calendars to join us!
REUNION PLANNING, FOCUSED & FLEXIBLE
Winter 2021 –> Spring 2022
Draft Program Outline (click here): programs, meals, reconnecting
On-campus Housing: in center campus, including houses with elevators
Registration: opens in March, managed by Smith
Subsidies to defray some on-campus expenses to be available
50th Reunion Book with nearly 400 personal essays, photos & more will be mailed to all '72s for whom we have current, verified addresses for free before Reunion!
SOME PLANS ARE STILL BEING FINALIZED
Smith is developing a comprehensive plan to insure safety on campus, including program/meal locations, occupancy, testing & vaccine status
College and Class programming is in process, details to come in Spring
REUNION TEAM CHAIRS & CO-CHAIRS
Class President & Chief Reunion Coach: Melissa Hield
Reunion Co-Chairs: Nancy Roth Remington & Cathy Roberts
Food/Final Evening Gala: Lisa Barlow
Headquarters/Welcome: Jane Wierdsma Forbes & Kristy Barclay
House Connectors: Mary Burton
In Memoriam Service: Kate Sonderegger
Parade: Maggie MacDonald
Program: Nancy RR & Cathy R
Reunion Book: Ellen Case, Editor
Swag: Kay Balun
Transportation/Accessibility: Debby Markewich Lazarus
Webmaster/Facebook: Beth Sobiloff & Maggie MacDonald
WANT TO HELP AT REUNION? PLEASE GET IN TOUCH!
Be on the team to help with Headquarters or Welcome Classmates
Take photos – for Class archives, to post on Facebook or other Social Media
Nancy (Cambridge, MA) * 404-432-8402, Nancy.Remington@gmail.com
Cathy (Nevada City, CA) * 801-597-4263, crobe0850@aol.com