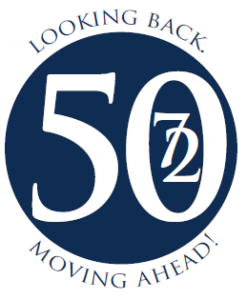 50th REUNION – May 12-15, 2022
Almost 200 of us are Registered to be on campus (plus 20 guests)
CHECK LINKS BELOW: ITEMS WILL BE POSTED IN MAY & JUNE
1. REGISTRATION: ended April 25th

2. COLLEGE & CLASS SCHEDULES – Class Programs, Meals, Neilson Reception w/ Pres. McCartney, In Memoriam, Ivy Day & more
3. ON-CAMPUS CHECK-IN @ Seelye for '72s – opens 5/12 @ 4pm:
4. HELP HEADQUARTERS TEAM ON 5/12 & 5/13! Contact HQ Co-Chairs:
Email helpgreet72@gmail.com (Jane Wierdsma Forbes, Kristy Barclay)
5. REUNION RIDE BOARD: Drivers wanted! Check here for information
6. WHAT SHOULD I PACK? Think comfort & weather.
7. SAFETY ON CAMPUS: Smith's top priority
See all Smith health guidelines
REUNION TEAM CHAIRS & CO-CHAIRS
Class President & Chief Reunion Coach: Melissa Hield
Reunion Co-Chairs: Nancy Roth Remington & Cathy Roberts
Food/Final Evening Gala: Lisa Barlow
Headquarters/Welcome: Jane Wierdsma Forbes & Kristy Barclay
House Connectors: Mary Burton & Anne Chipley Playe
In Memoriam Service: Kate Sonderegger
Parade: Maggie MacDonald
Program: Nancy RR & Cathy R
Reunion Book: Ellen Maloff Case, Editor
Swag: Kay Killian Balun
Transportation/Accessibility: Debby Markewich Lazarus
Webmaster/Facebook: Beth Taylor Sobiloff & Maggie MacDonald
HAVE QUESTIONS, WANT TO HELP AT REUNION?
Nancy (Cambridge, MA) * 404-432-8402, Nancy.Remington@gmail.com
Cathy (Nevada City, CA) * 801-597-4263, crobe0850@aol.com
To request scholarship to defray on-campus expenses:
Pat Smith (pysmith51@gmail.com)
Melissa Hield (melissa.hield@prodigy.net)