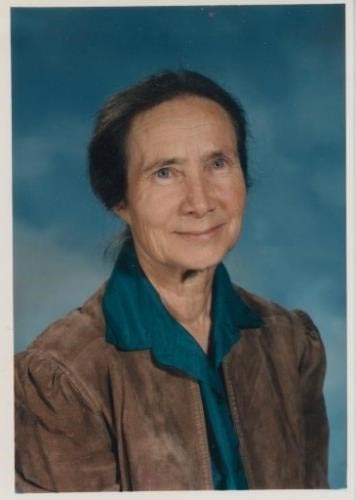 Yvonne Ruth (LeCamp) Boucher, 91, died June 29, 2021 at the Fisher Home in Amherst.
Born September 22, 1929, in Upper Silesia, Germany, she fled with her family to Belgium in 1939, and then to Aix-en-Provence in southern France, where she lived the rest of the war. Emigrating to the US in 1947, she settled with her family in New York City.
An avid walker, she met her husband, F. Robert "Bob" Boucher, on a hike in 1952. They married in June 1953 and lived in New Jersey, before moving to Northampton in 1956.
A graduate of the Evening Division of Maurice Evans High School in New York City in 1954, she began her college studies twelve years later. After four years at Holyoke Community College, she transferred to Smith College, where she graduated magna cum laude with honors in French in 1972. She earned her doctorate in French at UMass in 1984. She was a member of Phi Beta Kappa and Phi Kappa Phi.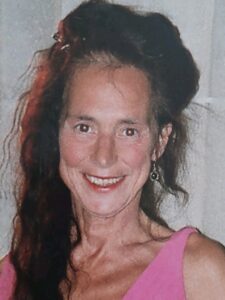 Mary Kerner, September 13, 2017, Mary's love and enthusiasm for dance, especially ballet, was her life's focus. Initially after college, she taught dance technique and appreciation in addition to writing. Then as a free-lancer, Mary focused on dance and performance reviews in addition to celebrity interviews for a variety of newspapers and magazines. She authored Barefoot to Balanchine (How to Watch Dance) in 1990. Free-spirited Mary travelled extensively throughout the USA and Europe. Her greatest loves were dance, classical music, writing, ocean swimming, her beloved sheltie Balanchine, and teaching folk dancing at summer "Bals" in France. After many years of deteriorating health which impacted her mobility, Mary died in Paris, France on September 13, 2017. – Annis Legrow, MHC 1972
Marja-Riita Vallila, December 23, 2018. The best part of Junior Year Abroad was becoming friends with Marja-Riita Vallila when we lived together with a host family in Aix-en-Provence, our academic way station before Paris and the Sorbonne. She was a bohemian in both senses of the word—a cosmopolitan with an unconventional approach to life, born in Czechoslovakia. The important artist that she later became was prefigured in all of her artistic forays at the time I knew her best: Three-dimensional shaped canvasses painted in a way that recalled the Color Field artists. Monotypes made on glass. Small oils on whatever material was at hand, including matchboxes. Delicate etchings. Later, big, heavy-metal welded sculptures. And, finally, wildly exuberant, biomorphic slip-cast ceramics of small-ish scale. Marja wasn't interested in creating inaccessible art of ponderous and recondite meaning. Instead, she embraced Matisse's dictum that art should be "un bon fauteuil"—something comfortable and pleasurable. Marja spoke four languages, attended five colleges, taught for 25 years at SUNY-Albany, and could not be limited by anything until a rare and early dementia took her speech, her creativity, and eventually her life in Memphis, Tennessee, in December 2018. — Barbara Satz, Class of 1972
Susan Begg, September 15, 2019. A vital and valued member of Emerson House, Sue often led and always accompanied her housemates on their adventures, taught them to accept differences, and showed them how to "live life large". She moved on from Smith to graduate from Cornell Veterinary School, intern at the American Medical Center in NYC and complete her residency at Cornell. Her business, Vet Express located in Ithaca NY, was one bucket of her multi-bucket life of sports (softball and rugby), friends, Unitarian Universalists, and most notably perhaps, the Merchant Marines.
Sue knew who she was and what she wanted. She was beset with hurdles, some too great for her to conquer, but she addressed them honestly and directly and soldiered on. Perhaps her greatest gift to the world was that her raw honesty permitted others to see life through a different lens and perhaps even address their own demons out loud. As her friends have noted, "she was one of a kind". We will miss her!
Melinda Moore, January 17, '19, at home in Darnestown, Maryland, having bravely battled ovarian cancer since 2017. Born in southern California, Melinda attended Smith College for two years before being accepted to Harvard Medical School, where she earned her MD and MPH. During her extraordinary career in global health – 20 years at CDC, 5 at HHS, and 14 at RAND – she attained the rank of Captain in the USPHS, worked in over 45 countries, and touched countless lives.
Catherine Axon Elder '72, March 26, '19, at home in Kennett Square, PA, from a fall. Catherine had retired there with her husband, Tom Elder, MFA '71, after a career as a professional librarian and then several positions in finance. She was active in local politics, especially public welfare projects and equal access to programs and services. She married Tom in 1973; their son, Adam Axon Elder, born in 1984, is now a music producer in Los Angeles. Catherine was exceptionally intelligent, insightful, strong and determined, an inspiration to so many of her Smith friends.—Kiki Smith '71
Sally Kennedy '72, Nov. 7, '17, in Hingham, MA. Sally majored in Italian and spent her junior year abroad in Florence. She worked in clinical operations in the pharmaceutical industry for more than 25 years and founded her own consulting firm 10 years ago. She helped bring drugs to market in the areas of oncology, HIV, reproductive endocrinology and metabolism. She enjoyed intricate baking projects (the more challenging, the better), gardening and spending time with her beloved Cavalier King Charles spaniel, Penny. Sally's sister, Katharine (Kay) Kennedy '68, survives her. Sally's mother, aunt and grandmother were also Smith alumnae.
Rosanna Sattler, of Cambridge, on Friday, November 24, 2017. For 44 years the beloved wife of Edward Orenstein. Devoted daughter of the late Sonya (Krisoff) and Joseph Sattler. Rosanna was among the first women to be admitted to Yale University, where she graduated in 1972. Member of Phi Beta Kappa at Yale. She graduated from Harvard Law School in 1978. First female Partner at Posternak, Blankstein & Lund. Private services will be held in NY. A Celebration of Rosanna's life to be scheduled. In lieu of flowers, remembrances may be made to the Heart Transplant and Mechanical Circulatory Support Program, c/o Brigham and Women's Hospital, 75 Francis Street, Boston, MA 02115 or to your favorite charity . Levine Chapels, Brookline
Yahee Fernandes-Baxter '72, March 30, '17, after a brief battle with a rare cancer. Yahee lived in Chase House. In 1972, she earned a Bachelor of Arts in Theatre and Voice, and in 1973, received a Master of Arts in Teaching from Smith. Show business was Yahee's vocational calling, so she moved to New York, NY, to pursue her craft. She became an Entertainer – singing, dancing and acting – and performed both "on" and "off" Broadway for many years in shows like The Skin of our Teeth, Salute to Broadway, Gotta Dance, and South Pacific to name just a few. She appeared in more than 150 television commercials and radio voiceovers. Yahee originated and played for almost five years the role of Star Stoner/Wilson on the ABC network soap opera, The Edge of Night. We will never forget Yahee's enthusiastic performance at our 40th Reunion. Yahee is survived by her husband Greg, two sons, and her nine sisters.
In Memoriam

Nancy Ashton, 2013
Susan Dow Barra, 2022
Susan Begg, 2019
Julia Lampson Blackwood, 2007
Ann Blum, 2015
Yvonne Ruth (LeCamp) Boucher, 2021
Jeannetta Bronner, 1995
Lisa Connor, 2010
Frances Dalton, 2016
Virginia Smith Harvey Dawson, 2016
Susan Delehanty, 1993
Elizabeth Kelly Ebitz Esq., 2004
Catherine Axon Elder, 2019
Yahee Fernandes-Baxter, 2017
E.J. Fischer, 1986
Patricia Dodd Flynn, 2016
Emma Foa, 2007
Christine Hamilton Foote, 2014
Barbara Fritz, 2014

Susan Garber, 2015
Katy Flowers Gerke, 2013
Nancy Gilmore, 2013
Beverly Holmes Hall, 1987
Nori Hall, 2017
Ellen Hassett, 1973
Anne Hilliard, 1973
Ann Imbrie, 2006
Cassia Whiteside Jevremov, 1978
Cynthia Jones, 1988
Mary Kelly, 1972
Sally Kennedy, 2017
Mary Kerner, 2017
Mary Blagdon Kinnas, 2021
Martha Love, 1979
Frances Twohig Mather, 2001
Melinda Moore, 2019
Stephanie Monka, 2021
Candida Susan Ohnysty, 2021
Jean Osborne, 1999
Laura Anderson Park, 2000
Deborah Post, 2021
Elizabeth Fennelly Sasser, 2009

Rosanna Sattler, 2017
Deborah Sobol, 2014
Katherine Sorenson, 2001
Jane Southwick, 2016
S. Florence Spencer, 1981
Mary Jo Corral Sultenfuss, 2010
Christine Swenson, 2004
Sylvia Thompson, 1973
Kathryn Torda, 1993
Elizabeth Herman Tracy, 1999
Marja-Riita Vallila, 2018
Marie Viita, 2003
Catherine Hoover Voorsanger, 2001
Anne Winchester, 1992
Cynthia Works, 1999
Eleanor Yee, 2017