Joanne Griffith sent this: I've loved visiting France ever since my Jr. Year Abroad. I took a wonderful French river cruise just last year, but now we have lockdowns and the terrorist attacks in Paris and Lyon. We enjoyed the trip from Paris to Lyon and then south to the Mediterranean, ending in Barcelona, never thinking how life might change. Now none of these ships are in service, and the quarantines in place mean thoughts of returning are replaced with memories of last year.
Linda Kramer Jenning is very happy to share that son Sam Jenning and Yewlin Chee were married in July. Their Seattle wedding was small, outdoors, and masked. It was wonderful to have such a joyous celebration during the pandemic. Bainbridge Island has been a good refuge during this time of social distancing. Linda immerses herself in nonprofit work (by Zoom), several book groups (one in French) and writing for PostAlley.org. Another bonus of this crazy time has been zooming with Jordan housemates Nancy Bowen, Debbie Miskell, Jill Sandusky Bascom, Harlee Strauss, Nancy Grandine, Marion Hale, Carolyn Davis, Cathy Baker Degnon and Patty Clark Haberstroh. On one zoom, they all attempted the hot chili pepper challenge launched by Patty after her ALS diagnosis three years ago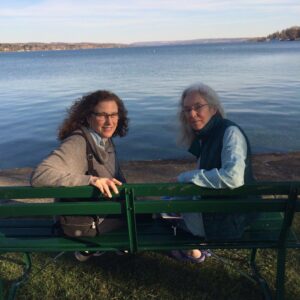 Jane Kocivar retired in 2016 from solo private practice Internal Medicine after 33 years on Maui. She's now hanging out on Haleakala, happily married , mother of two daughters, Lecca and Bailey .She has adopted a Covid cleaning schedule / fitness routine. Today she steam cleans the main floor with her Shark ! How funny! Maui/Shark- get it? (see Maui photo, right, Tyler house buddies Jane Kocivar MD & Katherine McCarthy MD)
Chree Tarrio Perkins and husband Doug just finished their annual two-week selective logging of their preservation land in Calais, VT. Total isolation! Chree then visited her parents in Boothbay Harbor, Maine, for the first time since February. It was so hard not to give hugs! "How do we balance the need for immunological safety with that of emotional well-being?"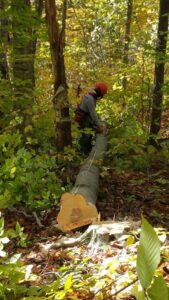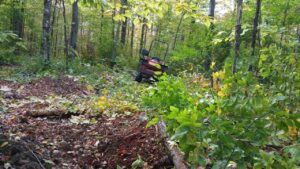 Libbet Cone is considering attending the 50th. She writes: "Actually I'm enjoying this time of quiet and reflection, but then, I'm an introvert. The world is operating on an introvert's schedule these days, rather than at the usual extroverted rate! I also am seeing this as a time for some much needed change on the planet and in ourselves. It is hard to acknowledge that I am enjoying the quiet time, given how many are suffering sorely. So many have lost so much, and we have not seen the worst of it. My children are grown up, healthy and well; I feel such joy in their presence, and am grateful that those challenging teenage years are over!
I am continuing to work – starting up a new clinic providing Psychedelic Assisted Psychotherapy. It is the new vanguard in mental health, and that makes it fun. Otherwise I'd be looking at retirement and some travel once the pandemic is under control. Psychedelic treatment has a future – great for PTSD, depression, and anxiety. Starting up my clinic is exciting, but a lot of work and can be frustrating. Like herding kittens – not a terribly tactful thing to say, but that is how is sometimes feels!
Mary Jo Hull Robison feels one is never too old for an education. After raising 10 children with my college sweetheart (MIT '72), I returned to school to become a clinical psychologist and have recently opened a private practice in the Los Angeles area. Of course, it's by Zoom only, adding one more skill to navigate in my later years!
Lucy Bodine Nattrass was so inspired by the article in the Autumn 2020 Quarterly about the team that designed the SmithVent ventilator. She asks if the idea has been taken up by manufacturers? "I've been trying to keep choirs and orchestras alive without having to resort to unsatisfactory zoom rehearsals. We chat and plot on how to get together when government restrictions for more than six are lifted, practice and plan future concerts. I've also been trying to keep in touch with children and grandchildren who live far away."