Complete '72 Class Notes & More, http://smithcollege72.org CU@Reunion55, May 2027!
Access to '72 Facebook may be requested via email to bsobiloff@comcast.net.
Julie Arnold wrote: "What an exciting and busy few months! My daughter, Sarah Ricciardi, married Alex Russell in October 2022. My son, Benjamin Ricciardi, finished his Masters in Counseling in December 2022. My standard poodle, Chelsea, earned her Rally Championship in January 2023! And my puppy, Daisy, is finally house trained (I think). "
Classmate Joanne Sawhill Miller is busy these days. After the restriction of personal interaction caused by COVID, Joanne felt she needed more social and intellectual stimulation. She joined 'The Wednesday Club'. a private, non-profit women's club which was founded in 1890. Its goals are to encourage continuing intellectual growth, contribute to the community and work together to advance culture, education and civic improvement in Saint Louis. It's turned out to be a wonderful choice – every Wednesday is now a morning lecture, a luncheon, and an afternoon lecture. It definitely gives her more topics to talk about at cocktail parties!
Diane St. Cyr Francis and her husband are in Arizona in February for the Tucson Gem and Mineral Show. Diane will be helping at the Rocks and Minerals magazine booth. "From wet New England to dry Arizona! Here we are!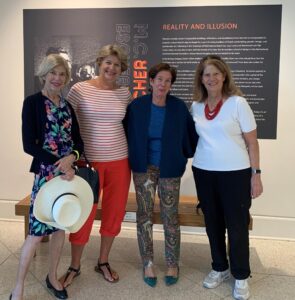 Nancy Jianakoplos had a nice trip to Florida over the year-end holidays:
"I spent three weeks in Florida. While there, I had lunch in Naples with (left to right in the attached photo) Jackie Millan, Beatrice Waldeck, and Lou Zellner (and me). Our lunch conversation included reflections on the special place held by our individual experiences with Smith Junior Year Abroad programs: Jackie Millan in Paris, Beatrice Waldeck and Lou Zellner in Hamburg, and myself (Nancy Jianakopolos) in Geneva. After lunch we viewed the Escher exhibit at the Naples Art Institute."
Jan English Leary has finished a third book! "My third book, second novel, Town and Gown, will be published on May 15 by Fomite Press. The publishing world is tough, but I loved working with this small press from Vermont. I've been writing fiction for over 30 years and retired from teaching in 2006 to write full-time.
Lucy Bodine Nattrass had this interesting role: "I'm Spokesperson for a Working Party which is exploring ways to significantly reduce the carbon foot print of our church's four buildings at minimal cost. We also write articles every month in the church newsletter concerning aspects of reducing, recycling and reusing as much as possible. By reading labels to check on climate friendly procedures and products , boycotting rogue corporations and educating friends and anyone you come across, there is so much that individuals can contribute to slowing climate change. There is no Planet B. "
During November and December 2022, Stephanie Shafran had the opportunity to read poems from her chapbook "Awakening" at two senior centers and on "the Twilite Poetry Pub" radio program hosted by Tommy Twilite. Partner Peter and she are in Puerto Rico for a month-long adventure. When not exploring Old San Juan, enjoying the beach at Lujillo, and discovering the island of Vieques, she hopes to complete the first draft of her memoir,-in-progress. At home, Stephanie is thankful for so much – Peter, her family, her writing community, and last but certainly not least, her good health.
Sec. Stefanie Solnick Cargill, 1224 E. La Jolla Drive, Tempe, Arizona 85282, rhpt70@cox.net.