Julie Arnold wrote: What a year 2020 was! I got a head start on it, being hospitalized for blood clots in my lungs in December 2019. In Feb 2020 my son moved in after his divorce. In March my oldest standard poodle, cherished companion, and competition partner died. In April my father died (not from Covid19) just before his 95th birthday. As the oldest sibling, and an attorney – dealing with Dad's estate fell to me. It was monumental, re-homing Dad's collection of thousands of books. Fall 2020: I resumed horseback riding after 16 years! My friend's horse was rehabbing from ACL surgery so we took it slow! Going to the barn and daily walks with the 2 remaining dogs filled my time for "outings". Zoom is a blessing – I've attended religious services, classes, kept in touch with people across the country. I'm learning to crochet, but spend a lot of time unraveling! Making mats from plastic grocery bags – but am out of bags! Still need a project for my remaining scarf yarn. Looking forward to warmer weather and being able to safely gather in person.
From Elaine Bromka: The virtual presentation of my Off-Broadway show "TEA FOR THREE: Lady Bird, Pat & Betty" just rolled out—and 10 groups have already booked it. After viewers watch the Vimeo link to the show at their leisure, I join their zoom meeting for a 20-minute Q&A. Most recent audience: the League of Women Voters of New York City. Nothing better than performing for a group of smart, engaged women!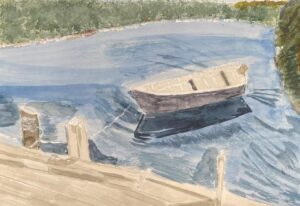 Cathy Eaton sends 'hellos': "Staying close to home, I'm lucky to spend lots of time outdoors: swimming, kayaking, xc skiing, hiking, and playing pickle ball (limited teams). In June I began painting – first digitally, then with acrylic and watercolor. I try to paint every day. See paintings at CathyEatonPhotos.Weebly.com Looking forward to Biden/Harris healing ugly, dangerous divisions in our country, tackling Covid-19, climate crisis, racial injustice, and reconnecting with our allies. I look forward to traveling, visiting friends and family, and hugs.
Diane St. Cyr Francis serves on the Conservation Committee in Braintree, MA., chaired by Heather Charles Lis '97; a recent member was Gail Poliner Feldman '60. Diane also serves on the Community Preservation Committee. Keeping in shape after retirement, she takes 4 exercise classes per week. She still enjoys teaching piano lessons, but has fewer students because of Covid.
Claire Hamlisch asks: "Anyone else out there spending time feeling guilty for not writing a novel, baking a cake, throwing a pot, composing music, etc., during lockdown?"
Robin Rainie Lobacz and her husband sold their yacht brokerage business and escaped SoCal in June via RV, rescuing a puppy along the way, arriving 10 days later at their 2nd home in NH to ride out the pandemic. They never expected that it might be unsafe to return home in the fall. In Feb 2021 they are still in NH, embracing the familiar snow and cold of our childhoods. We will return to SoCal when it is safe. Love being back in our home state, feeling very safe and isolated in the woods. CA has lost its luster.
Emily Parkhurst volunteered at the General Election, Nov 2, 2020: "I had a terrific experience as first-time election judge in Maryland where the process for voting and for safeguarding the vote was carefully organized, efficient, and transparent. The Chief Judge at our polling place inspired us to do our best during the 15 hour day, to assure that every vote handled smoothly, to help each other follow required steps. I came away inspired about our democracy and hopeful for the future – even in this crazy 2020!"
Dan and Brenda Burden Paull (married 50 years this June!) sold their home of 35 years on Mercer Island, WA in July and moved to Olympia, WA, to be near a son and his young family. "I help with them 3 days a week which is a joy! I enjoy being the Lawrence House connector for our upcoming 50th reunion – fun to reconnect with classmates after all these years. Hope May 2022 will be Covid free and we can reunite in person. Daughter, Jessie Paull, '09, is in the Navy, completing surgery training at Walter Reed Hospital.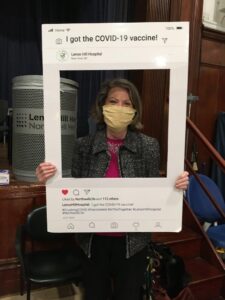 Ann Hickey Peloquin got both her COVID-19 shots! She wrote: "NY State opened up 65+ vaccinations one day after CDC recommended opening up shots for 75+ people on Jan 12th . Despite competing and separate websites run by the state and NYC, the rush to find appointments for shots was convoluted and difficult to maneuver. Thanks to sleuthing by my daughter, we found my #1 shot, Pfizer, Jan 16th in Mt. Kisco, NY. #2 shot was 3 weeks later, Feb 6th, Lenox Hill Hospital, NYC. My reactions: #1 – crazy dreams; #2 – aching knees.. Can't complain, given the nightmare we have been living through.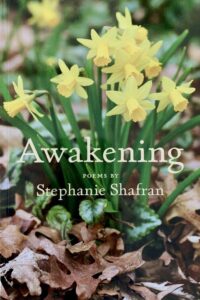 In April 2020, Stephanie Shafran published a chapbook called "Awakening". Focusing on the process leading up to its publication kept her distracted and content during a stressful/bewildering period. She's established a website, stephanieshafran.wordpress.com, which includes monthly blog posts. She gave a virtual reading in Nov and another in 2021 for Hilltown Readers, hosted by Straw Dog Writers Guild. Writing groups four days a week keeps her busy and able to deal with forced isolation from her children and grands.
See attached photo of Stephanie's chapbook
Patricia Younger Smith's spirits are lifting! "Registered for my vaccination; watching the Biden inauguration. I'm hoping he will heal the Nation. Looking forward to our 50th Reunion and the opportunity to connect – in person (sharing hugs!) – with my classmates. I spend most days at home, baking cookies (too many), drinking wine (a bit too much), watching streamed TV in front of a crackling fire. Husband David, son Andy, and I have stayed healthy. Volunteering at church to help at monthly blood drives, collecting food for the needy, managing church's finances; and visiting house-bound elderly friends. These are challenging times.
Lauran Boakes Yates' daughter helped put Lauren's art prints on the Etsy website. (See LYatesWaterscapes.) Proceeds will go to Alison and her family. Hope all are doing well during these difficult times!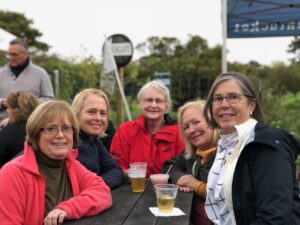 A very late addition, from Nancy Metzger: This attached group photo was taken in Oct 2018 but not received until 2021. 1972 Albright House Smith buddies at Nantucket. This picture was taken at a beer garden on Nantucket, where we had a small reunion in late 2018. We had a wonderful time at Martha's house, on the East end of Nantucket. Nancy Detweiler Metzger, Kathy Teichgraeber Merrill, Sarah Ruley Loeb, Martha Lyn Dippell, Pam Wiggin Barry.