Complete '72 Class Notes & More, http://smithcollege72.org CU@Reunion55, May 2027!
Access to '72 Facebook may be requested via email to bsobiloff@comcast.net.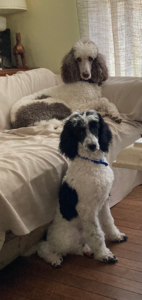 Julie Arnold wrote that attending our 50th reunion was so much fun! "I loved seeing old friends and making new ones. Shortly after returning home, I picked up a standard poodle puppy, affectionately referred to as the velociraptor, who has been keeping me busy! I'm continuing to show my other poodle in Rally trials and getting ready for obedience and maybe agility".
Photo: Julie Arnold's two standard poodles
Daughter Hillary is visiting Diane Francis's family for 2 weeks, along with Hillary's 4 children, A.J., Courtney, Libby, and Tommy. They went to a terrific zoo in Gray, ME, maintained by Maine's Fish and Wildlife Department where they saw a mountain lion, moose, white-tailed deer, black bear, golden eagle, a bald eagle, and other critters. Best wishes to all Diane's former classmates.
Stephanie Shafran writes:
My adult writing life as a poet began unexpectedly. Almost thirty years ago, rather than joining my daughters and husband on a visit to his parents' home, I decided to stay home alone. I'd never relinquished such an obligation before and dreaded the consequences of doing so, but on that day, in a clinically depressed mood, I just couldn't imagine making the effort.
After the house emptied, I climbed out of bed and headed to a deck chair on the balcony off our bedroom. Through the slatted railing I noticed that, on the front door stoop, a pot of pansies looked sun-baked and parched. I felt shame that my neglect had led to their withering. However, the thought of doing anything to save them felt overwhelming. Lifting my body out of the chair, walking downstairs to the kitchen, fetching the watering can, and filling it with water would come first. Then I'd have to carry it out the front door and drench the parched blue, yellow and white speckled Johnny-Jump-Ups to bring them back to health. That would represent a life-saving gesture, and in my deadened state of mind I wasn't even sure I wanted to save them, let alone expend the energy to do so.
As these thoughts swirled in my brain, words emerged – drooping, parched bodies, drink of survival, basket of twisted twigs, purple and white heads. As they surfaced, something shifted. A surge of energy interrupted my ennui, and I determined that I could save those flowers I'd planted just weeks earlier. But first I headed back inside to grab my journal and pen to record the images before they evaporated from my mind.
Though the urge to record my feelings in writing wasn't unusual for me, seeing the words fill the blank page was surprising. "Pansies", the short poem I wrote that afternoon, was my first since girlhood. As soon as my pen revealed the last two lines, I followed through on the obligation I'd just accepted– to save them from desiccation and death.
Pansies
I did not kill the pansies by my front door.
This morning I spotted their drooping,
parched bodies, and wondered
if I would save them or not.
Later, green watering can in hand,
I poured them a drink of survival.
Now they stand tall and alert in a basket of twisted twigs, their purple and white heads reaching toward the sky.
All the same, I make no promises
to pansies.
After three years of no travelling and not seeing far flung relatives, Joanie Speers has been catching up. "Our youngest daughter got married in April (after 14 years and four children) and our oldest daughter and her family traveled to London from Australia for the event and a family reunion. It was an amazing time with all 16 of us together after such a long time. In July, we went to Colorado (where I haven't been since 1971…) for my sister's (Susie Speers Herrmann 1970) son Will's wedding. Life has changed. Photo:
Ellen Coxe wrote that catching up with friends from Northrop, Gardiner, and all over campus, many for the first time in decades, was exhilarating, inspiring, and so much fun!
Photo: Ellen Coxe, Ann McMillan, Ronna Gitlin Woodward, Nancy Ammon Jianakoplos, Gail Bongiovanni, Evelyn Maurmeyer, Cathy Eaton
Susan Termohlen reports that there were eight Baldwin attendees for our 50th reunion – fabulous! We were even placed in rooms along the same hallway in (air-conditioned) Ziskind: Irena Hochman, Wendy Jones, Stefanie Solnick Cargill, Jane Levere, Gail O'Brien Nitti, Linda Kirch Knight, Susan Termohlen, and Kate Sonderegger. As always, the Smith reunions are a wonderful way to reconnect with all our Baldwin pals. Thanks to Emily Parkhurst for keeping us connected via Zoom over the last few years; a good motivator.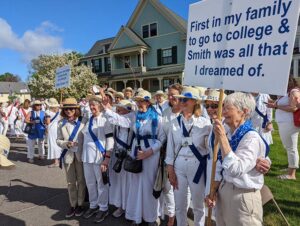 Photo: Lining up for the Ivy Day parade:(Irena Hochman, Wendy Jones, Stefanie Solnick Cargill, Jane Levere, Gail O'Brien Nitti, Linda Kirch Knight, Susan Termohlen, and Kate Sonderegger)
Christine Whitehead thinks she is one of the last to still be working full-time. "I'm a divorce lawyer in Hartford and while I have limited my case load to fewer cases than I've managed in the past, it still is a challenge. I'm enjoying my two dogs, friends I've been able to see since Covid, and marketing my new novel, Hemingway's Daughter. We go to our boat in Mystic, CT, as often as we can, but it is in for repairs so this year will be shortened. I enjoyed reunion, particularly seeing women and hearing their stories. It was delightful to see the Class of 2022 in its diversity, energy, and spirit. Thank you, Smith."
Sec. Stefanie Solnick Cargill, 1224 E. La Jolla Drive, Tempe, Arizona 85282, rhpt70@cox.net