Complete '72 Class Notes & More, http://smithcollege72.org CU@Reunion55, May 2027!
Access to '72 Facebook may be requested via email to bsobiloff@comcast.net.
Irena Hochman and her husband, Tadeusz Myslowski, a multi-media artist, became Honorary Citizens of the City of Lublin, Poland. They began donating art to the National Museum in Lublin, Poland, in 2017, in celebration of the 700th anniversary of Lublin. At this point, Hochman and Myslowski have gifted around 1000 works of art to the National Museum, including works by Pablo Picasso, Salvador Dali, and Tadeusz Myslowski himself. The works were amassed over a 50-year period, and represent the most important private collection of graphics in the museum's collection in recent years. The collection includes contemporary Polish and international graphics, drawings, paintings and sculptures, complemented by posters, photographs, documents and art books. With their award, Irena and Tadeusz joined a select group of 18 Honorary Citizens of Lublin, which includes Pope Saint John Paul II among others.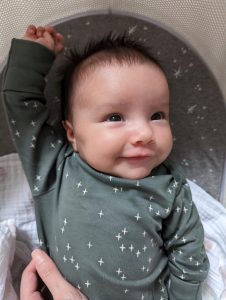 Susan Termohlen sends the best kind of news:
I have finally joined the ranks of grandmothers! I was 37 when I had my first child and he was 35 before he had his daughter, so we have waited a long time. Announcing granddaughter Amara Fox Kalum.
Sec. Stefanie Solnick Cargill, 1224 E. La Jolla Drive, Tempe, Arizona 85282, rhpt70@cox.net.