Dear Classmates,
The question for this column: "Next year at this time we'll be less than a month from our 40th Reunion! What news would you like to share with classmates to make them more inclined to return to Northampton? Often people stay away from reunions because they believe "no one is in my situation" or "every one else has…." Perhaps we can debunk those myths!"
Maria Quinlan Leiby: "I'm definitely planning to attend next year, barring major catastrophes, of course! It is easy to feel isolated, especially in smaller Midwestern cities [like Lansing, MI] where people tend to think of places like Smith as very snobbish. And it's been a long time [1992] since I attended a reunion. But I was back last year for the Glee Club reunion and concert and I was reminded that I never feel out of place at Smith. I know it will be fun!"
Lucy Bodine Natrass: "I would encourage you to come to the reunion. You needn't have had a spectacular career. I certainly haven't. At this stage, surviving with your senses of humor and delight expanded is plenty. I came to the 35th even though I had not contacted anyone in particular to meet up with. I enjoyed talking to people I hadn't known before. Wandering around the Plant House, Capen Gardens and Paradise Pond was wonderful. The best part was the spontaneous bop we had on the Sat night in the sitting room in the Quad house. Someone put on some 70's music, we kicked off our shoes and grooved. It was great."
Bonnie Beaver: "Planning to attend!"
Dianne Lindewall: "I hold my years at Smith and the relationships I developed there very fondly in my memories even though I have never been good about reunions, with the exception of family ones. Perhaps I'll get there next year for the 40th. If so, I look forward to seeing others there."
Evelyn Brown: "Looking forward to seeing classmates next year."
Susan Termohlen: "I love reunions – and I've been to all of them – because I've seen old friends, made new friends and where else can you hang around with a large group of people who are EXACTLY your age! Reunions are great and even better the more people come. "
Kim Albright: "Well, I think this should be a 'come as you are' reunion and get as many people back as possible. After all, what are we waiting for?"
Diane Francis: "It would be interesting to find out what classmates are doing in their retired years."
Pat Younger Smith: "I have been to every one of our five year reunions except one, and I've been pleasantly surprised each time with how much fun I had. My experience at Smith was a mixed bag of ups and downs, and I've certainly had concerns at each stage of my post-graduate life that I hadn't accomplished enough, wasn't realizing my potential, wasn't living up to the promise of my Smith degree. But it's always been a rewarding experience to return to Smith and spend time with intelligent women, who are interesting and interested in me as a person, not as a trophy of Smith success. I've met women from our class that I either didn't know at all or had known only slightly as an acquaintance while on campus, and have shared laughs, memories and empathetic discussion about the courses of our lives. We are an amazing group of women – all of us in our unique ways. We owe it to ourselves to return and share with one another our experiences, hopes, regrets, laughs and good times. I look forward to reconnecting and making new connections at our 40th."
Linda Simonson: I don't know that this would entice anyone to come to the reunion, but at the age of 59, I started moving toward achieving a dream I have had since I was a little girl. Like many little girls, I dreamed of having my own pony. Well, the opportunity was never available as a child, my early adulthood was consumed with other 20 something issues and activities, and then came kids (need I say more?) with activities and interests of their own. As a matter of fact, I'd all but forgotten my childhood obsession except for a family trip to see the in-laws in South Dakota that included a family trail ride. But then that was 18 years ago. Long story short, an opportunity presented itself the night before my 59th birthday which got the fire burning once again. Since then I've been taking lessons and the day after Mother's Day, after a wonderful day with my 3 month old (first) grandson, I welcomed my very own horse to the stable less than a minute from my home. Maxx and I are getting to know each other and I look forward to this long deferred adventure with him!
And in other news:
Evelyn Brown: "I'm having a blast reinventing myself since my "forced" retirement almost 2 years ago. I've just returned from a month-long tour around Europe–Germany, Czech Republic, France, Belgium and England. The purpose of the trip was to run the Berlin Half Marathon (where I got a new personal record), and the trip blossomed into a whirlwind tour. I spent several days with classmate Claire Hamlisch and her husband in southern France, where they have moved since retiring from the UN. I am having a great time relaxing and learning how to connect with people again."
Sarah Gordon: "A Smith student has written a paper about a diary of the Smith Strike (1971) I wrote and later gave to the archives. There will be a little exhibit on this at the Berkshire Convention in June."
Dianne Lindewall: "I am living in Austin TX and am a practicing psychologist – my husband is a professor at the LBJ School at UT Austin. We've been here since 1999. I have been fortunate in that I have had many opportunities to travel around the world since graduating from Smith. However, it is always a pleasure to return to Northampton, which I have done many times since 1972. I commuted there on weekends from Boston while I was finishing up graduate school and my now-husband was teaching at UMass. My most recent visit was for a 5 day conference held at the Hotel Northampton. Wiggins Tavern had not changed much, but Northampton has! Lots of great restaurants for example, including a Tibetan restaurant where I ate yak and had the best chai tea I've ever had in my travels."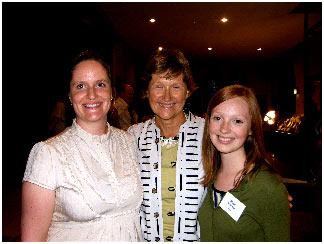 Here is a copy of the photograph that Deborah Sobol asked me to send on to you for her update! I'm a rising senior at Smith (class 2010) and Sarah Schriber (whose class year I am not aware of at the moment) is also pictured. Hope this helps!
From Ev Brown: I was in Albuquerque late March for a board meeting and met up with Gloria Gilmore-House for a rainy-day get together. We had lunch, went shopping for potting glazes (Gloria is a potter, among other talents), and had dinner in old town (attached photo). The board meeting was with my work with AAPRCO (American Association of Private Railroad Car Owners), a group I have been active with for more than 20 years. I am currently the Secretary.
As for my own news since last update–I'm restarting guitar by taking lessons this time (I played in high school and at Smith and several years beyond, but never learned how to play), and golf lessons (once again, restart after many years' hiatus). I have also been tasked to assist in the production of a documentary film which now takes up quite a bit of what free time I had. I volunteer with my various alumni groups and am assistant Treasurer for the Smith College Club of Los Angeles, I volunteer with the American Heart Association as a mentor to newly-active individuals while also training for half marathons. I will be running the first half of the San Francisco Marathon on my birthday this July 25 and am really looking forward to running across the Golden Gate Bridge (in traffic lanes!) with 14 other people from my Start! Training LA team.
Restarting life (some call it retirement) is a lot of fun and is giving me the chance, once again, to give back by volunteering and to find all the activities I used to like to do but got lost in the shuffle of pay-check hunting.
————————–
Need I say that I have always found reunions — even the run-up — a special gift in my life. As we get together in our various towns in anticipation of the weekend in Northampton; as House Reps reach out and Special Gift Committee members and Class Fund Agents urge us on, as we anticipate time apart to Reminisce, Reconnect and Redefine — I anticipate making a new friend in the class as well as seeing long-time pals. Be sure Smith has your e-mail — visit our website (www.smithcollege72.org) — and reach out to that friend you'd like to see In May. And keep in touch.
Mary Lindley Burton
Class Secretary